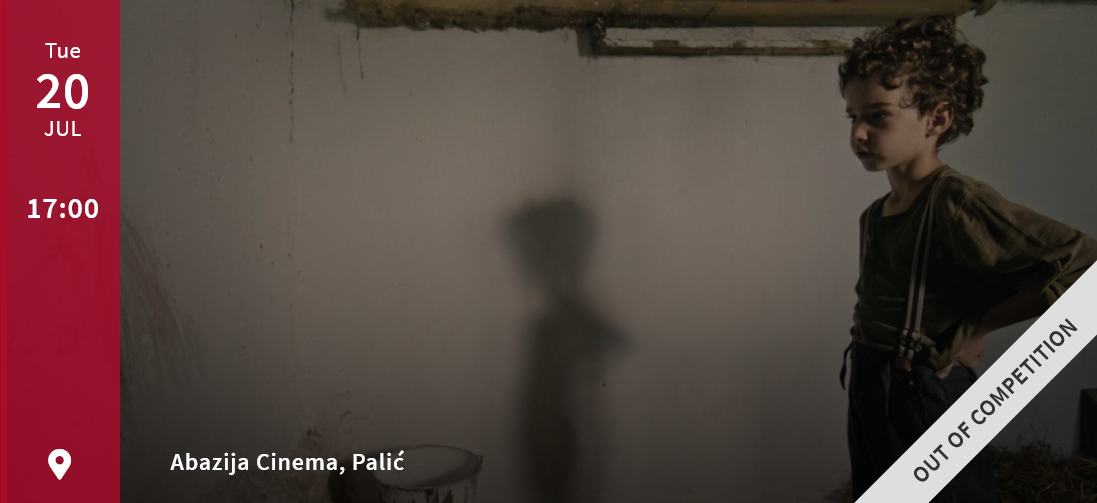 Foto: European Film Festival Palic
Rainbow (Aleksander Vujović, 2020)
Rainbow, directed by Aleksandar Vujović, is based on a section from an autobiographical book from an Italian painter, this short film carries the spectator away in a somewhat obscurely romanticised Italy of the 1950s. It's the story of a painter recalling the earliest stage, at age six, of him knowing his professional calling in life is to be an artist.
The story follows a young boy, with a close relationship to a rabbit and a horse but hysterical fear of a chicken. He hides away in the horse stable and first begins to mark lines into the wall with a metal stick. The child gets more creative over time, using grinded petals and even blood. At the beginning his parents, especially his father doesn't quite seem to understand but as the plot carries on the relationship becomes extremely warm. The boy is inspired by the rainbow that falls on the wall through the window he drew a horse on, this phenomenon inspires him to draw in colour. The boy sees a huge rainbow again, when he is on his way to buy paint with his father. At the end of the film we see the aged man, the boy has become, drawing childlike figures in rainbow colours on the wall. The symbol of the rainbow is emphasized very openly with dreamy supernatural colour grading.
Music plays an important role in the movie, emotions are carried through sound, every time the boy is interrupted by his father frightening music starts playing, his fear of being caught is captured solely by sound. When the boy sneaks around at night he gets disturbed by a loud snore of his father making him shiver for a moment. The sound finds more ease once the boy and the father find their peace. On the other hand every time the boy interacts with the mother doing traditionally feminized task such a picking flowers and cooking the sound is soft, emphasizing the sensitive nature of the child.
The short movie is aesthetically inviting, it carries the story without dialogue, beautiful pictures and well accentuated sound lets the spectator dive into this dreamlike memory. The film also feels like a memory, a lot of feelings are happening overly intense in a short period of time, the relive is there very soon too, as if the spectator is actually in the memory. A memory of feelings first and foremost and a memory of events only secondly. This brings the spectator in a state where the old artist might find himself right now, yet this rush of highs and lows feels like it's only scratching on the surface, it's only a subjective memory not the whole story, that's the charm of the film, which is well put but also might leave the viewer a bit unsatisfied. In conclusion the picture has a thought through concept, but in the end it feels kind of dull.
Montenegro 2020
Selection : Parallels and Encounters
Director/Editing: Aleksandar Vujović
Soundtrack: Slobodanka Bobana Dabović Đurić
Sound: Aleksandar Brajović, Mihailo Miha Radonjić
Production: Apulia Film Commission Executive production: Boka F